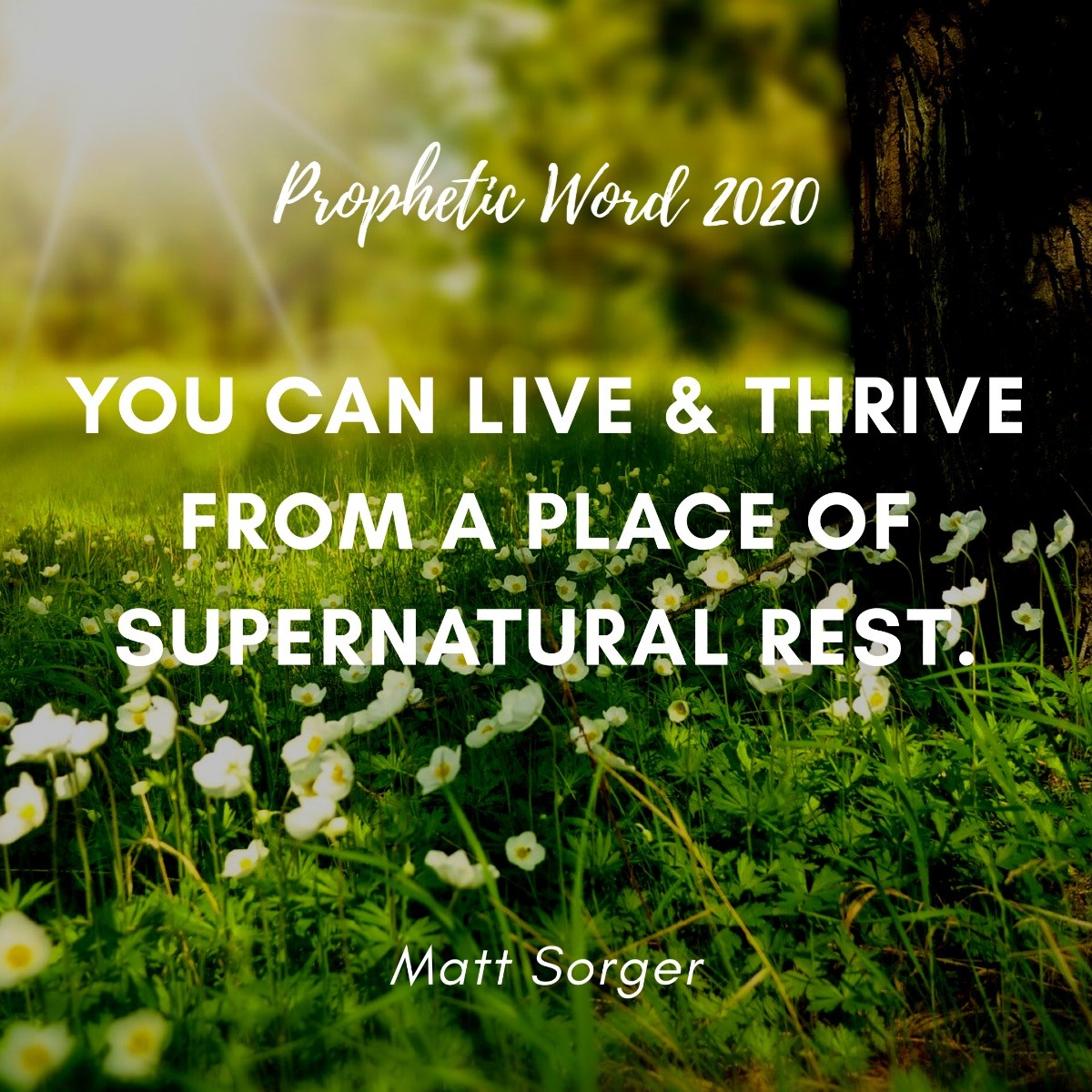 It's God's heart that your New Year be the most FRUITFUL one yet.

2020 is going to be a year where you live out of the overflow of God's presence and abide so deeply in Christ that you are abundantly fruitful in every area of your life.

One of the themes the Holy Spirit has highlighted to me is living from a place of SUPERNATURAL REST.

When we think of rest we often think of inactivity. And in the natural this may be accurate. But what many of us need is way more than physical rest. We need a deep rest in our soul and inner man.

Many people think, "If I can just get on that vacation, I'll feel better. I'll be happier and more rested." You say that until your vacation is over and then you say, "I need a vacation from my vacation. I'm exhausted." LOL.

True rest doesn't come from inactivity. It actually comes from God's presence. It's not another vacation that you need. What you need is to deeply connect with God and allow His presence to refresh and restore your soul on it's deepest level.

You can be VERY ACTIVE and VERY RESTED at the same time. I want to teach you HOW.

The Lord spoke to my heart, "I am going to cause you to be MORE FRUITFUL from a place of DEEPER REST."

WHAT are we going to be MORE FRUITFUL in?

We are going to be more fruitful in:

1. The good works God has planned for us to do - your calling and spiritual activity.
2. Our ministries.
3. Our workplaces.
4. Our families and relationships.
5. The very nature and likeness of Christ in our lives.

You are going to be so fruitful in the Fruit of the Spirit that you aren't even going to recognize yourself! Others won't recognize you either. You are going to be more patient, kind, joyful, loving, and self-controlled than ever before.

AND you are going to live from a place of DEEP REST. You will not burn out or dry up! You aren't going to crawl into 2020. You are going to FLY into it!

On the first Sunday of 2020, I preached a prophetic message on living in Abundant Fruitfulness and Supernatural Rest. It's a KEY for moving into our NEXT SEASON.

God doesn't want rest to be just one day a week on the Sabbath. He wants to teach you to live in a continual state of divine rest. From this place you will produce more fruit and be more effective and impactful in every area of your life.

I want to sow this prophetic message into your heart as you kick off 2020. I go much deeper in my teaching and preaching under the unction of the Holy Spirit to empower you for the NEW God has planned for you.

YES! I want to be MORE FRUITFUL in 2020! Please send me both the audio and video of the prophetic teaching - Abundant Fruitfulness and Supernatural Rest.

Send Me This Prophetic Message in Audio & Video Format. I'm Ready to Enter into 2020 from a Place of Deep Rest and Abundance! CLICK HERE.