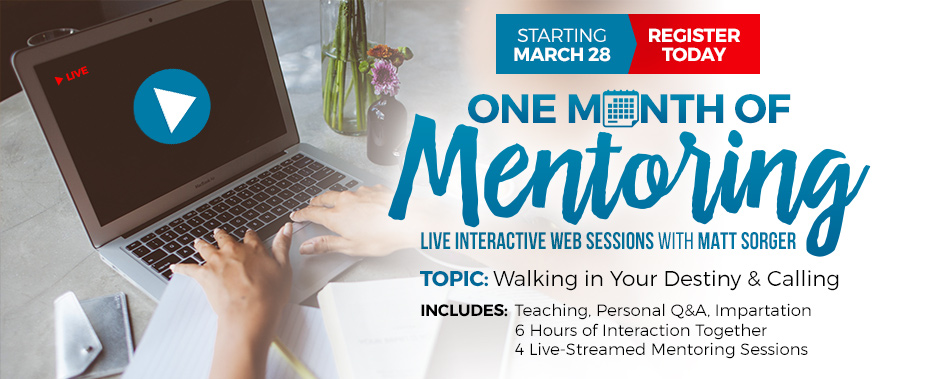 One Month of Mentoring with Matt
Topic: Walking in Your Destiny & Calling

Includes:
Teaching, Personal Question & Answer Times, Impartation
6 Hours of Interaction Together
4 Live-Streamed Mentoring Sessions
"I want to pour into others everything God has poured into me. This is why I am hosting these mentoring sessions." ~ Matt Sorger
Our first mentoring group of 2017 will be about Walking in Your Destiny and Calling. So many people have dreams, visions and desires for what they want to be and do in their life. But so few actually know HOW to walk their calling out.
I want your dream, vision and call to become a reality in your life.
Fifteen years ago God called me to launch an itinerant ministry. I started with NOTHING except a word from God. I learned a lot in the journey and I want to impart that to you! I went from having a dream to seeing thousands saved, healed, set free and filled with God's glory. I launched a TV show, wrote a book, and travel full time every week to a different place to minister. I've been to over 30 nations and have seen over 160 children rescued out of sex-trafficking. And it all started with a dream and a desire.
But HOW did it all happen? This is what I want to mentor you in. HOW to walk in your destiny and call.

Join me early in 2017 in this mentoring group. You can BE ALL God has made you to be and DO ALL He's called you to do. Don't let another year pass you by where you are stalled, delayed and on hold.
Dates and Schedule:
Session 1: March 28, Tuesday 9pm EST
Session 2: April 4, Tuesday 9pm EST
Session 3: April 11, Tuesday 9pm EST
Session 4: April 18, Tuesday 9pm EST

Each session will be archived in case you miss it and need to watch at a later time. This is great for all our international group members.
***At the completion of our mentoring group each person will receive a Certificate of Completion recognizing that you have completed this mentoring time with Matt. Each person will also receive the video files of each session that you can keep permanently so you can watch the sessions as many times as you like.

Registration is required. Registration is $120 for the 6 hours of mentoring time.
Important Details:
This will be a live streamed 4 session mentoring time up close and personal with Matt. Each session will last for at least one 1/2 hours and will include teaching, training, personal stories and encounters, secrets Matt has learned in his life, ministry and walk with God, opportunity to interact through chat, a question and answer time, and a time of prayer impartation. This unique mentoring opportunity will take place via live interactive web stream. Matt will be able to see your comments and questions through the live web chat box and email. Matt will see and know each one of you by name. This will be a great relational time of growing in the knowledge of God together and seeing God's purposes come to fulfillment in your life.

The mentoring group will be open to a limited amount of people.
Space is limited so please register early.
Mentoring Begins in One Month! Sign Up Now to Secure Your Place!