A Teaching by Matt Sorger
"Bitterness is a result of clinging to negative experiences. It serves you no good and closes the door to your future." - Leon Brown
I recently posted this on my Facebook Page and it got viewed by over 101,000 people in five days! That statistic spoke something to me. This is an issue many people are dealing with or they know someone who is dealing with it and it is somehow affecting their lives.
Bitterness is a Venomous Poison
Bitterness is a poison and if it's not dealt with quickly, it will infect not only your own soul, but other people around you. Bitterness springs from an offense that has not been dealt with. If offense lingers too long, it can eventually lead to a hardened heart or something even worse. It can become a venomous poison that contaminates relationships and begins to tear things down.
I once knew a pastor who experienced rejection from some of his church members. This can be something that leaders go through. It's difficult to please everyone all the time, even if you are living just like Jesus. Or you may still have areas that God is working on and people can experience your imperfections. Those things can cause offense in others, even without realizing it. It's wonderful when a leader leads with love, humility and Christ-likeness, but even then they still may go through rejection at times.
This pastor allowed that rejection to lead to offense. The offense simmered and began to grow roots deep into his heart. Soon offense became bitterness and began to taint everything he did. He would scowl at "disloyal" parishioners. His preaching was tinged with anger. Rather than releasing life, he began to infect others with his bitterness.
It Takes Great Humility to Face Your Own Faults
This type of thing can happen in any relationship. Someone does something that offends or hurts you. You feel justified in your anger. You harden your heart and begin to treat others unkindly or even unjustly. Relationships are damaged and soon torn apart. The only way to bring healing is for each person to deal with their own bitterness, offense or hardness of heart. It takes great humility to face your own unChrist-like behavior, especially if it feels justified.
To be free, healed and whole, we must choose forgiveness. We must choose humility. We must choose to take a long, hard look at ourselves and take responsibility for our own ungodly actions or reactions to things, no matter how hurt we feel. We must choose to love. We must choose to let God cleanse our hearts. We must choose to let God's love heal us. We must choose to extend the same forgiveness to others that God has extended to us. Otherwise we will be trapped in the destruction of a bitter spirit and soon the fruit of bitterness will be displayed all around us.
You or Someone You Know Can be Free!
My heart is for you to be completely healed and free. Maybe you have struggled with your own root of bitterness or maybe someone else's root has affected you. Either way, there is a way you can rise above it and live whole in joy and peace. I have a teaching series that will help you or someone you know be free. In my series, Deliverance And Permanent Change, you will learn how to identify negative roots in your life, deal with every offense, and live in permanent victory and freedom. You don't have to fall victim to your own offense or to the offenses of others around you.
Two Series for the Price of One
I so want you to be free that I am going to offer my other teaching series, Breaking Strongholds, completely FREE when you get Deliverance and Permanent Change. In Breaking Strongholds, I not only address the topic of the demonic, but I also teach on how to gain lasting victory over patterns of iniquity and sin passed down through the generational bloodline. I also teach on the process of transformation we all go through and how to renew our minds and expose the lies of the enemy. If you desire to live in complete freedom, as well as minister that freedom to others, then this series is for you!
This Offer will Last for One Week Only.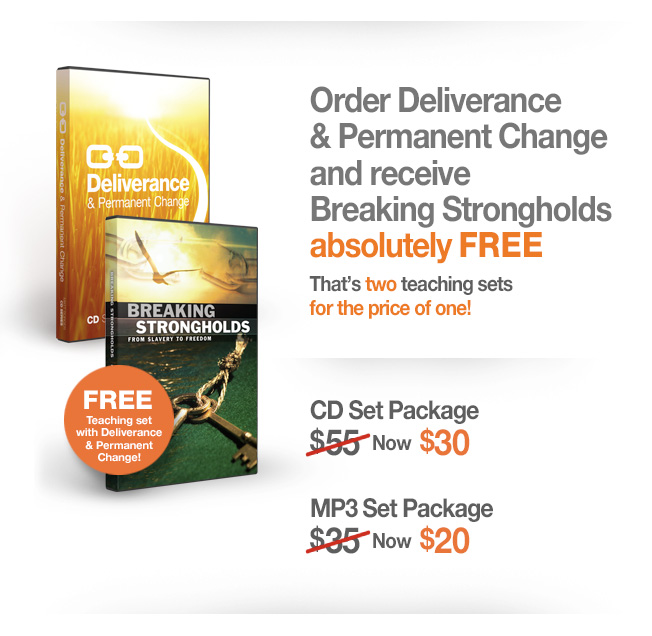 Teaching Sets included by Matt Sorger
Deliverance & Permanent Change
Teachings Include:
1. Dealing with the Root
2. Dealing with Offenses
3. Sustaining a Permanent Change
4. Walking in Permanent Deliverance
Breaking Strongholds FREE
Teachings Include:
1. Overcoming Generational Sins
2. Breaking Strongholds - Part I
3. Breaking Strongholds - Part II

This is for a limited time only from the publishing of this email.
This special offer is available for
ONE WEEK ONLY!