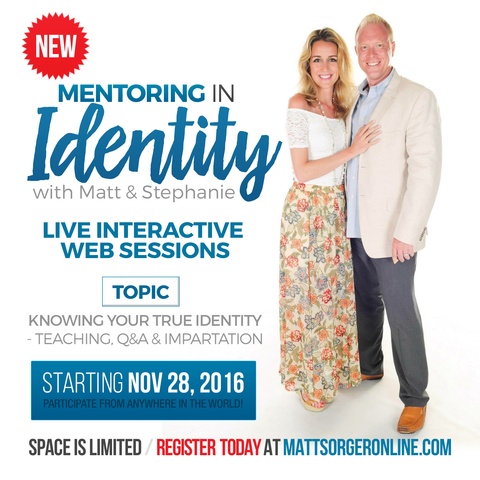 Have your life changed through Matt Sorger's Online Mentoring!

Our next mentoring group starts November 28th! Sign up today and be empowered and transformed!
YES, I want to participate in this live interactive mentoring time with Matt!
God has created each one of us with a God-given identity, a healthy and whole sense of self and knowing who we truly are.

I have found in my travels and in talking to many people that the enemy starts very young in people's lives attacking their identity. If he can successfully lie to them about who they are he can limit or hinder their destiny.

Everything you do flows from who you are and who you see yourself to be.

In this mentoring series I will be teaching you who you really are. Once you know the truth the enemy can never lie to you again! And you will be really free!

TOPICS COVERED:

Your Heavenly Identity
Exposing & Overcoming the Lies of the Enemy
Healing of Soul Wounds that Hinder Your Identity
Understanding the Power of Your Words
Healing Your Belief Systems
Experience Freedom in Areas of Your Identity
How to Transform Inner Feelings & Desires to Holy Spirit Desires
How to Find Freedom from Lies of the Mind and Soul
How to Live from a Heavenly Place
Knowing Your True Sonship & Daughtership
Stripping Off False Labels
Ruling From a Heavenly Place in Christ
Knowing Your Divine Authority & Using It
Freedom from Fear, Fear of Man, & Rejection
Freedom from People Pleasing
How God Transforms Your Identity
Taking Back the Territory of Your Soul
Radiating the True Nature and Likeness of God

IMPORTANT DETAILS:

This will be a live streamed mentoring time up close and personal with Matt. Each session will last for about one & 1/2 hours and will include teaching, training, personal stories and encounters, secrets Matt has learned in his life and walk with God, opportunity to interact through chat, a question and answer time, and a time of prayer impartation. This unique mentoring opportunity will take place via live interactive web stream. Matt will be able to see your comments and questions through the live web chat box. Matt will see and know each one of you by name. This will be a great relational time of growing in the knowledge of God together and seeing God's purposes come to fulfillment in your life.

DATES AND SCHEDULE:

Nov 28 at 9pm EST
Nov 29 at 9pm EST
Dec 5 at 9pm EST
Dec 6 at 9pm EST
This is approximately 6 hours of mentoring.

Each session will be archived in case you miss it and need to watch at a later time. This is great for all our international group members.

***At the completion of our mentoring group each person will receive a Certificate of Completion recognizing that you have completed this mentoring time with Matt. Each person will also receive the video files of each session that you can keep permanently so you can watch the sessions as many times as you like.

REGISTRATION:
Registration is $120 and is required to join us. If you would like to register both yourself and your spouse, please click here to register and receive $40 off the total purchase price of two registrations.
Space is limited so please register early.