A Teaching by Matt Sorger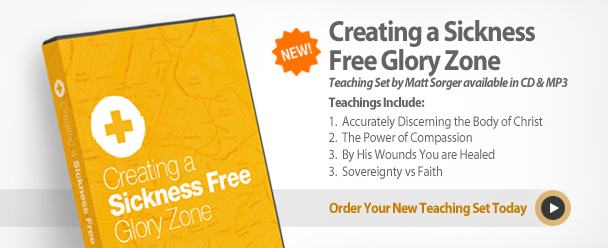 "There is a dimension in the glory where demons, depression, worry, fear, and doubt can't touch you!" ~ Matt Sorger
The glory of God is a divine insulation that not only fills you, but also surrounds you. God's light and presence can keep you from all evil, seen and unseen. There is a dimension in the glory where demons, depression, worry, fear, and doubt can't touch you! I have discovered in scripture a secret to even overcoming sickness and premature death. It's one thing to experience divine healing, it's another thing to live in divine health. There is a higher place, a higher dimension in the Spirit we can all live in.
OVERCOME SICKNESS & PREMATURE DEATH

There are Christians experiencing sickness and premature death. Paul talks about this in 1 Corinthians 11:30 where he says, "That is the reason many of you are weak and sickly, and quite enough of you have fallen into the sleep of death." He identifies the reason as "not properly discerning the body of Christ." This one statement holds a great truth within it. If the corporate church could understand and practice properly discerning the body of Christ, then not only would we each individually be insulated in the glory, but the church as a whole would be insulated and protected.
THREE LEVELS OF REVELATION

There are things we can do to cultivate the manifest tangible glory in and around us, and in our families and churches. One of these things is properly discerning the body of Christ. There are three levels to this. The first comes from Paul's teaching on communion in 1 Corinthians 11:29: "For anyone who eats and drinks without discerning or recognizing with due appreciation that it is Christ's body, eats and drinks a sentence upon himself." So the first level of properly discerning the body of Christ is recognizing that the communion is Christ's body. But there are two more levels to discerning Christ's body.
Jesus also had a physical body on the earth. Discerning Christ's body also refers to understanding what Christ accomplished for us when He gave His body as a sacrifice on the cross. That sacrifice was not just for the forgiveness of sins. It was also for our healing, wholeness, freedom, protection, provision and more! (Isa 53:5, John 10:10). We understand this from the meaning of the greek word for salvation, sozo. When we properly recognize what Jesus did for us, we access a higher dimension of the finished work, including a long, healthy life. It creates a glory zone of insulation.
Scripture also teaches that the church is Christ's body, the collective body of believers. It's you and me! (Col 1:18, Rom 12:10, Eph 5:21, Eph 4:3-4). Because Christ is in us, we are His body. To properly discern Christ's body means that we see Jesus in each other. And we prefer, honor and love one another the way we would Jesus. This discernment creates the level of unity needed within the church to create a corporate glory zone of protection. This is the key to a greater corporate glory. The church can be filled with so much glory that sickness can't touch us!
You Can Experience It!

You can fully understand God's will to heal and effectively release God's healing power to others. You can understand the balance between God's sovereignty and faith and how to accelerate the manifestation of a miracle and see a hedge of protection released around the church so that none would become sick and die prematurely. It is possible to live from this realm. I put together a four part teaching set that covers these life changing topics and more. His word sown in your heart will move you from positional truth to experiential truth. CREATING A SICKNESS FREE GLORY ZONE is available in both CD and MP3. I encourage you to give it as a gift to someone as well who needs breakthrough in these areas of living.