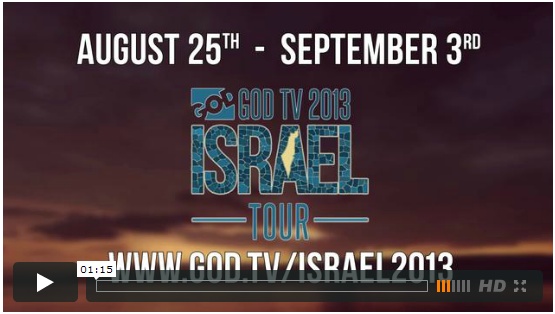 I want to extend a personal invitation to you to join me, Matt Sorger and GOD TV viewers from around the world in Israel for a supernatural journey August 24 to September 3, 2013. Whether you have been to Israel before, or this is your first time in the Holy Land, this promises to be a spiritual encounter and a great holiday.
| | |
| --- | --- |
| | Experience the Body of Christ coming together with many different backgrounds and flows seeking and worshipping the Lord in the Holy Land. Powerful intercession with TheCall visionary Lou Engle, prophetic worship with Kim Clement, Patricia King's prophetic gifting, worship with the Planetshakers Band, evangelist and faith teacher Angus Buchan, prophetic revivalist and teacher Matt Sorger and Faytene Grasseschi's heart for revival and social justice. |
Israel Tour 2013 booking deadline has been extended to 31 July.
Book today and be a part of truly life-changing experience!

Here are a few of the extraordinary highlights we have planned:
A prophetic worship concert with Kim Clement at the Sea of Galilee. Prepare to encounter God in a powerful new way!
A Cry in the Wilderness prayer event with Lou Engle, Faytene Grasseschi, Patricia King and Matt Sorger – covering the nation of Israel in prayer from north to south and east to west.
Angus Buchan gathering on the shore of the Sea of Galilee, the area where Jesus spent so much time ministering to people's needs and fellowshipping with His disciples.
Planetshakers concert at the old amphitheatre in Caesarea, which lies at the coast of the Mediterranean Sea.
A GOD TV event at the Davidson Centre near the Western Wall in Jerusalem, a dramatic setting for this special event.
As part of the GOD TV 2013 Israel Tour you will sleep beneath an infinite night sky in the Judean Desert.
A trip to Israel is a journey to the source of Christianity, to the very place where "the Word was made flesh and dwelt among us".
For more information on the tour, click on Itinerary or download the tour Brochure for the various ministry and tour highlights. Also see our Partner Ministries, Events, Tour Director's Message and Practical Info to make this an amazing experience.
Please Note:
This trip has different Hotel Packages to chose from.
MSM recommends the Five Star DELUXE Hotel Package for our group, but you are also free to choose one of the other options.
---