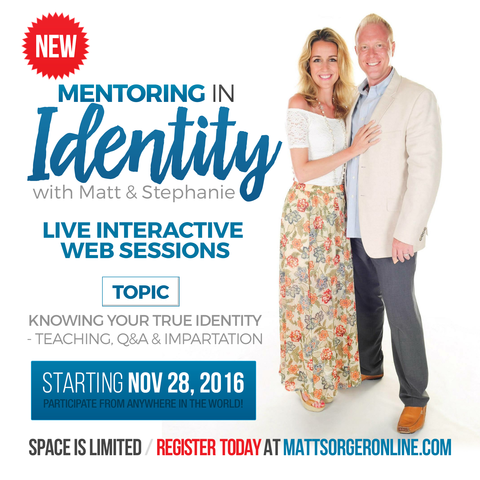 Have your life changed through Matt Sorger's Online Mentoring!

Our next mentoring group starts in just 5 days! Sign up today and be empowered and transformed!
YES, I want to participate in this live interactive mentoring time with Matt!
The enemy starts very young in people's lives attacking their identity. If he can successfully lie to them about who they are he can limit or hinder their destiny.

Everything you do flows from who you are and who you see yourself to be. In this mentoring series I will be teaching you who you really are. Once you know the truth the enemy can never lie to you again! And you will be really free!

TOPICS COVERED:

Your Heavenly Identity
Exposing & Overcoming the Lies of the Enemy
Healing of Soul Wounds that Hinder Your Identity
Understanding the Power of Your Words
Healing Your Belief Systems
Experience Freedom in Areas of Your Identity
How to Transform Inner Feelings & Desires to Holy Spirit Desires
How to Find Freedom from Lies of the Mind and Soul
How to Live from a Heavenly Place
Knowing Your True Sonship & Daughtership
Stripping Off False Labels
Ruling From a Heavenly Place in Christ
Knowing Your Divine Authority & Using It
Freedom from Fear, Fear of Man, & Rejection
Freedom from People Pleasing
How God Transforms Your Identity
Taking Back the Territory of Your Soul
Space is limited so register early.
CLICK HERE FOR MORE INFO & TO REGISTER NOW