If you are planning on joining us on our Caribbean Glory Cruise May 7-14, January is an important month for you.
We are able to hold our MSM block of rooms until February 1. After this date we have to release them back to the cruise ship.
So if you are planning on coming please put your deposit down on your room to secure it within the next few weeks.
It's going to be an amazing time!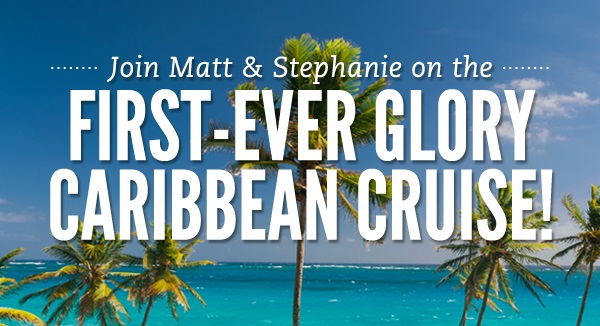 When: May 7-14, 2017 on Oasis of the Seas with Royal Caribbean
Where: Bahamas, St. Thomas, St. Maarten, leaving from Orlando, FL
What to Expect:
Relaxing vacation exploring & enjoying the Caribbean islands with fun & sun.
Powerful glory meetings on the ship.
Amazing prophetic worship with Julie Meyer.
Powerful preaching & teaching.
Times of personal prayer impartation from our guest speakers.
Personal hangout time with Matt, Stephanie & our special speakers.
Lots of fellowship & fun.
All you can eat food!

How: Make sure to reserve your room THIS MONTH with a deposit.
Click Here to Reserve Your Room Now
Feb 1 we need to release our block of rooms back to the cruise ship. If you haven't reserved your room by then we can't guarantee a room for you.
Looking Forward to Seeing You There!