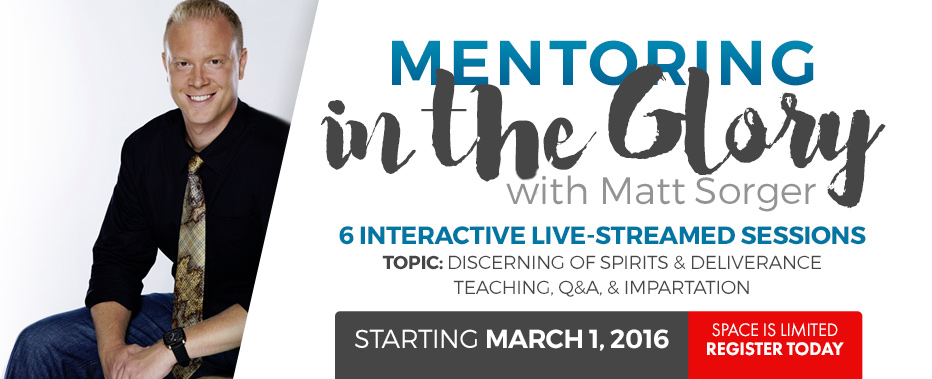 "I want to pour into others everything God has poured into me. This is why I am hosting these mentoring sessions with teaching, Q & A and special times of impartation." ~ Matt Sorger
Due to the overwhelming response to our first Mentoring in the Glory, I have decided to do our next mentoring group on the topic of discernment and deliverance. There are many, even in the church today, that are struggling or dealing with different issues in their lives. They long to be free, but just don't know how to walk it out.
This mentoring group will be great for people who want to learn more about the gift of discerning of spirits and understand deliverance. This gift not only affects deliverance ministry but also healing and miracle ministry, as some causes of sickness are spiritual in nature and deliverance is needed rather than a prayer of faith for healing.
This particular mentoring group will cover the following topics:
Understanding the gift of discernment.
What are the different ways we can discern in the spirit.
Understanding how your spiritual senses operate.
Understanding the different types of discernment including the discerning of demons, angels, the human spirit and the Holy Spirit.
What are the main purposes of discernment.
What do you do with discernment when you get it.
Topics of deliverance ministry.
How to deal with a spirit of trauma.
Understanding your authority in the spirit realm to deal with and stop demonic activity.
How to loose angels on assignment.
How to operate from the glory with the gift of discernment.
How not to come under demonic oppression.
How to operate in discerning of spirits in a balanced way.
How discerning of spirits and deliverance operates in healing ministry.
How to deal with the roots so there is permanent change and freedom.
The importance of renewing and sanctifying the imagination.
Guarding the gates of your soul to keep demonic activity out of your life.
How to effectively pray through demonic oppression and shut the doors to the enemy in your life.
YES, I want to participate in this live interactive mentoring time with Matt!
Dates and Schedule:
Session 1: March 1, Tuesday 9pm EST
Session 2: March 9, Wednesday 9pm EST
Session 3: March 16, Wednesday 9pm EST
Session 4: March 22, Tuesday 9pm EST
Session 5: March 23, Wednesday 9pm EST
Session 6: March 29, Tuesday 9pm EST
Each session will be archived in case you miss it and need to watch at a later time. This is great for all our international group members.
Each session will last for at least one hour and will include teaching, training, personal stories and encounters, secrets Matt has learned in his life, ministry and walk with God, opportunity to interact through live chat, a question and answer time, and a special time of prayer impartation. This unique mentoring opportunity will take place via live interactive web stream. Matt will be able to see your comments and questions through the live web chat box. Matt will see and know each one of you by name. This will be a great relational time of growing in the knowledge of God together and seeing God's purposes come to fulfillment in your life.
Space is limited so please register early.
***At the completion of our mentoring group each person will receive a Certificate of Completion recognizing that you have completed this mentoring time with Matt. Each person will also receive the video files of each session that you can keep permanently so you can watch the sessions as many times as you like.
Warmest Blessings,



Matt Sorger