Today you are going to grow in your anointing!

Do you ever fall into the trap of false comparison, comparing your life with someone else's? Do you look at what they HAVE and what you DON'T HAVE? This only leads to discouragement. God has given YOU an amazing anointing. And you can see it grow! You can be happy, fruitful and productive.
You Have a Unique Expression

God has a unique expression of the anointing He wants to release through you. I learned years ago that when you see the anointing moving through someone, you are not just seeing the anointing, you are also seeing the personality through which that anointing is flowing. When God created you, He designed you with a specific personality and temperament. Your temperament is God given and received at birth. It's the foundation of your soul and inward motivations. Your personality is the combination of your temperament, as well as environmental influences around you that have helped shape who you are. Temperaments rarely change, but personalities can be refined and transformed into greater Christlikeness.
Embrace & Love Your Uniqueness

Understanding your temperament and personality is crucial to embracing the unique flow of the anointing through your life. Your personality is the filter through which the anointing flows. This means that two people can have a similar anointing, but it will be expressed differently through each vessel. Always remember this important fact. It will keep you from falling into a comparison trap. It will also free you to be uniquely yourself and will release the greatest expression of God in you and through you. The way God flows through you will reveal a very specific aspect of who He is.
For example, I was recently ministering in a conference with Joan Hunter, the daughter of Charles and Frances Hunter. Her family has a rich legacy in the healing ministry. Joan's personality is a filter through which the healing anointing flows. In her temperament, Joan is a bit stronger and more direct than my own. When she releases the healing anointing, she will specifically call a person to the front and lay hands on them one on one and pray for healing with everyone looking on. It really inspires people's faith when they see someone get instantly healed so easily. I love how God moves through her with healing.
My personality is a bit less direct. I will lead people in corporate worship and allow the presence of the Holy Spirit to fill the room. Then I will call out words of knowledge and people will get healed in the midst of worship without me directly laying my hands on them. It's a different style of healing ministry. It's the same healing anointing, just expressed differently through different personalities. It's all wonderful and amazing. And each person is unique in how God flows through them.
God has a specific anointing and expression of that anointing for you. For you to excel forward in the good works God has destined you to do, it's so important to discern your anointing and embrace it's unique expression in and through you. As you learn to steward what God has given you, you can go higher and higher and see your anointing increase.
I want to see you grow in your unique anointing! I have a 4 part teaching series called Increase Your Anointing. In it you will learn how to discern your anointing, keys to flowing in the anointing, understand the purpose for your anointing, and learn vital principles of association that will lift you to new levels. It's time to increase and move higher! Let's go higher together.
Increase Your Anointing is available in both CD and MP3.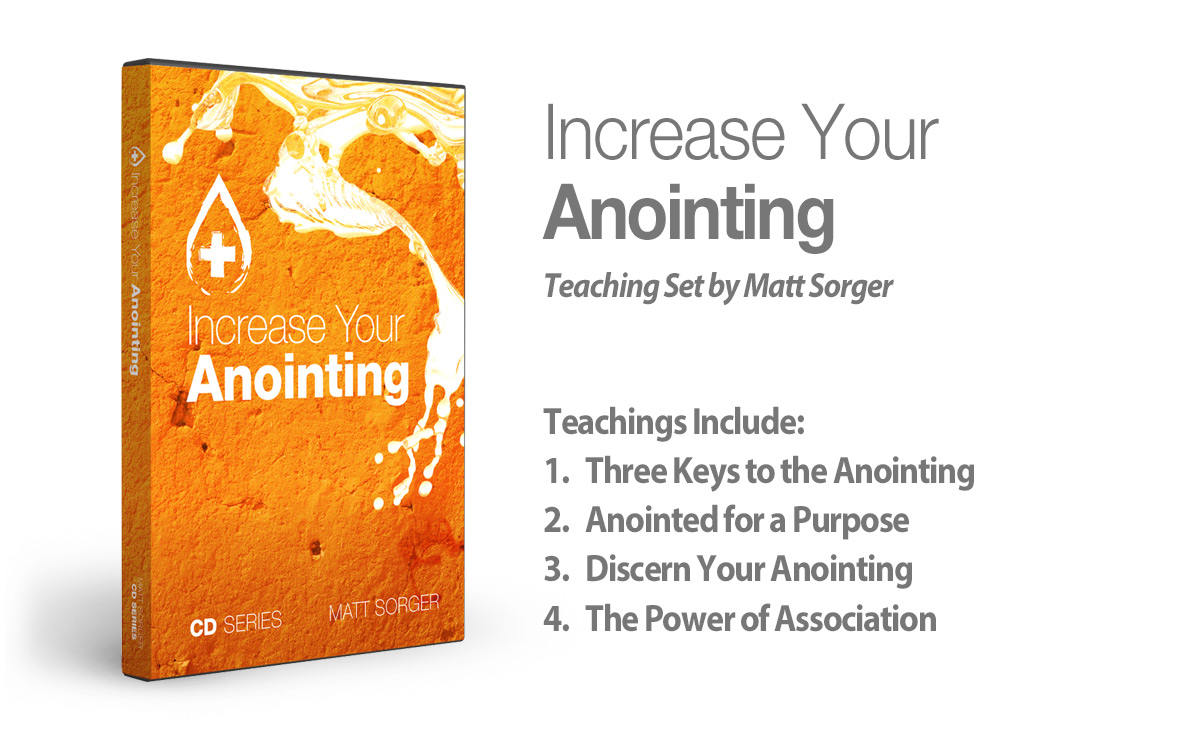 Yes! I want to GROW in my anointing!