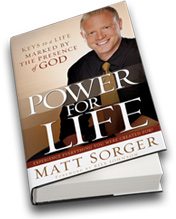 Experience everything you were created for!
Many Christians today are hungry to experience God's power. They often look for it in outward demonstrations of the supernatural, such as signs, wonders, miracles, and prophetic words. But there is a desperate need for all believers to realize that true power is the result of the lives they live before God everyday.
This book will show people how to dwell in real, authentic spiritual power—not just the outward power sometimes visible in church meetings, but power from within that transforms their daily lives. People will learn that they can live an extraordinary, supernatural life in God Monday through Sunday.

Order Power For Life Today right here!