IT'S TIME TO ADVANCE FORWARD INTO YOUR CALL, GIFTING, ANOINTING & DESTINY. GOD IS SAYING "NO MORE DELAY!"
We are in a time where God is catapulting people into their callings and destinies. God has amazing good works for you to do. These good works are an integral part of the destiny God has planned for your life.

Many of us carry a sense of destiny, that we are called to be doing something more than what we are doing at the present moment. You feel this way because your life has a purpose greater than your present state or condition. There are greater things God has designed for your life.

But you may be experiencing frustration because you haven't seen the fullness of God's intent for your life manifested yet. And you are asking the question "How?!" How am I going to get to where God wants me to be?
I have asked God this same question. I remember when God spoke to my heart in prayer one day. He said, "Find the lost children." My first response was, "How?!" I soon learned that God wasn't looking for my "HOW". He was looking for my "YES". When I surrendered my will to God's will and said "YES", then He began to give me the "HOW". Now five years later we have seen over 200 children rescued from child trafficking!

I want to teach you a massive key for fulfilling your destiny and the life God has designed for you. It's a key that God taught me early on in ministry. It's the key of ACTION.
Many of us receive a word from God and then sit passively waiting for it to somehow just happen. We think to ourselves, "Well, if this is really God's will, one day it will just happen." Then years pass by and it still hasn't happened.

Here's a word from God for you today. It's time to pick up the word God gave you and begin adding action to your faith.

James 2: 17 teaches us, "So also faith, if it does not have works (deeds and actions of obedience to back it up), by itself is destitute of power (inoperative, dead). (AMP)
I've learned through experience and by the Holy Spirit teaching me, that when God calls me to something there will be a divine partnership. God will give me the insight I need to take steps of action that will bring momentum to the word He spoke to my heart. As I add action to my faith, the design and plan of God begins to unfold in reality and soon I am walking in the fullness of God's destiny and purpose.
APPLICATION:
Today I want you to pray and ask God what steps you can take to add action to your faith. You are called to a divine partnership with God. He has an amazing life designed for you. But it won't happen passively. Make a decision today to overcome procrastination.

It's time to MOVE FORWARD! The life God has designed for you is waiting for you!

ACTION is only ONE KEY to seeing God's destiny and abundant plan unfold in your life. I have so much more I want to share with you on this!
Prophetically it's time for you to step out of the boat and begin to do things you've never done before! God wants to use your life in an amazing way that will impact multitudes of other people.

BRAND NEW SPECIAL ONLINE TEACHING OFFER

I have put together a 4 part teaching series called Advancing Your Destiny that will help you walk into the fullness of God's destiny and plan for your life.
Because I so want you to move forward in your calling I'm also going to GIVE you, Are You Called or Chosen?, COMPLETELY FREE. In this additional 3 part teaching set I cover: Are You Called or Chosen? Maturing into Your Mantle & Passing the Test of Honor. That's three additional teachings on fulfilling your destiny completely free.
The truths in these teachings will unlock your future.

Special 2 Day Offer!
When you order Advancing Your Destiny, you will also get my 3 part teaching series Are You Called or Chosen? COMPLETELY FREE! Normally $25
YES! I want to receive the 4-part teaching set Advancing Your Destiny & get the 3-part additional teaching set Are You Called or Chosen? COMPLETELY FREE.

CLICK HERE FOR THIS SPECIAL CD SET OFFER
CLICK HERE FOR THIS SPECIAL DOWNLOAD OFFER

HOW TO PULL YOUR FUTURE INTO YOUR NOW - FEATURED ON SID ROTH'S IT'S SUPERNATURAL!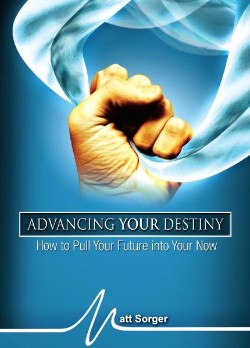 There is power in vision. When you can see with the eyes of the Spirit, all the limitations of the natural are removed. In this powerful four part teaching series Matt teaches with scriptural clarity how to pull God's timing into your "now moment". Matt addresses the concept of God's timing and brings some much needed truth and revelation into this area. You will also learn how to live with a spirit of excellence and advance your life and ministry forward with exponential growth. Get ready to access God's supernatural grace and power in your life today!
Teachings Include:
The Power of Vision and Destiny
Advancing Your Destiny with Excellence
Pulling Your Future into Your Now
Unleashing Your Prophetic Promise
COMPLETELY FREE TEACHING SET
NORMALLY $25
The bible teaches that "many are called, but few are chosen." What does it mean to be called by God and how do we qualify to become chosen. How do we transition from receiving a call from God to actually manifesting that call in reality? In this teaching series, Matt will answer these questions and much more. You will gain a deeper understanding into how to mature into the anointing God places on your life and what tests you need to pass in order to be promoted to a higher level of influence and authority. Get ready to walk in the fullness of what God has for you!
Teachings Include:
Are You Called or Chosen?
Maturing into Your Mantle
Passing the Test of Honor
CLICK HERE FOR THIS SPECIAL CD SET OFFER