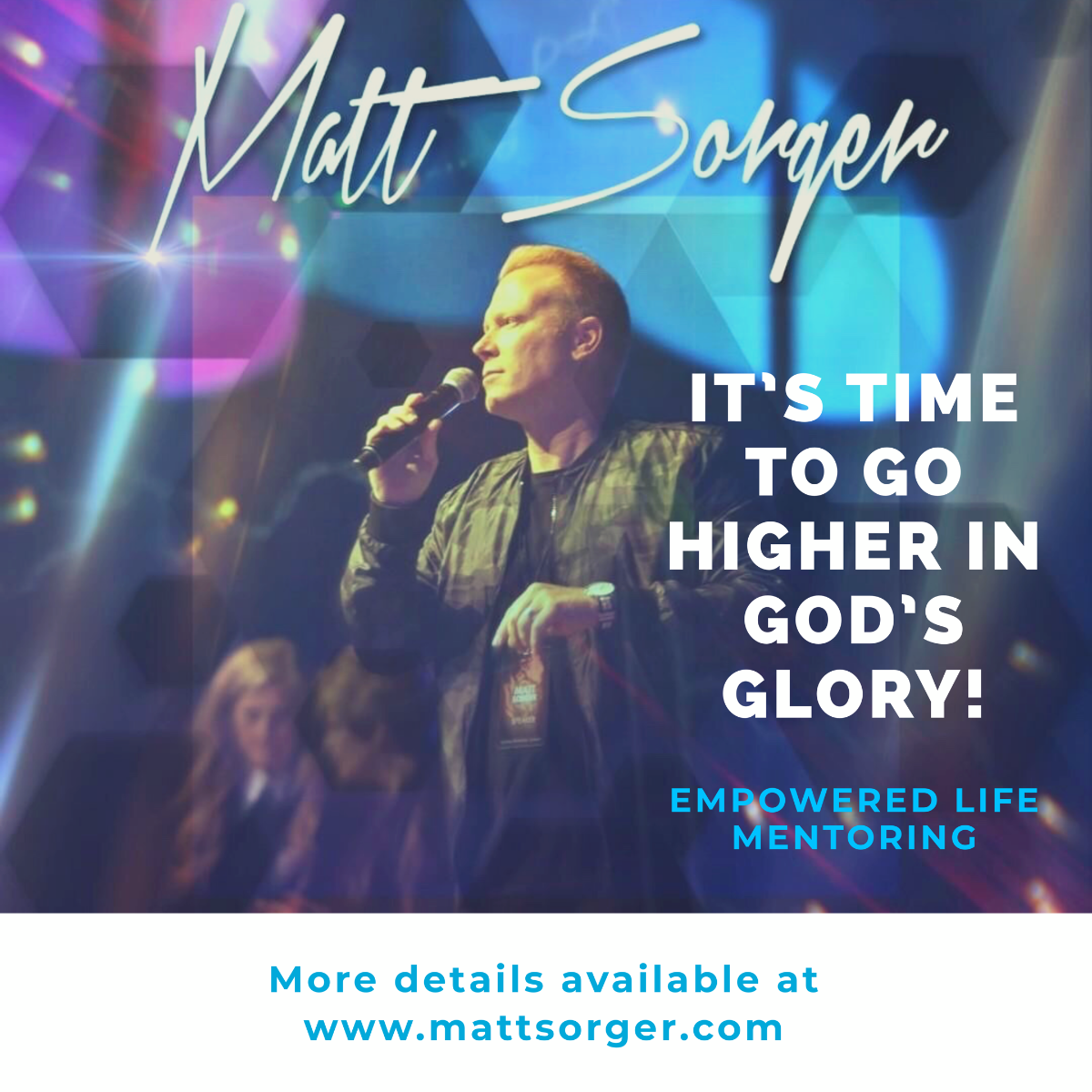 Do you want to go higher in God's power, glory & presence?
Have you longed to have a mentor pour into you?

Now is YOUR time!

I have launched a brand new mentoring program & lives are already being changed!

Here's a few recent testimonies:
It was ALL BRILLIANT! I'm feeling more equipped and empowered now. Thanks so much Matt! Blessings abound to you.

~ Lorraine
Absolutely beautiful Matt. I had such a wonderful baptism of His Love in the soaking session. I just sat and lingered in His sweet Presence afterwards. Thank you so much. Abundance of BLESSINGS back to you!
~ Lori


There was no greater way to start this mentorship! This message spoke to my heart concerning my life and ministry in so many ways. I could feel the presence of God as His love ministered so deeply to my heart. I know I've been changed, and will listen to this message again and again. Thank you Matt for pouring into us. God bless you and your precious family.
~ Claudia


Matt, thank you for these teachings. This is an answer to my prayer. I serve as a Chaplain in a maximum security prison for women and I've prayed for the ability to shift the atmosphere. I am anointed and operate in the gift of discernment. Thank you for journeying with me and sharpening my tools.
~ Joan



If you are longing to go deeper in God. If you desire to live in God's glory & experience His abundant life, I invite you to join our community of believers who are seeking God together & being empowered to live the best life God has for them.

Now is YOUR time.

CLICK HERE TO FIND OUT MORE ABOUT OUR MONTHLY MENTORING PROGRAM.
I look forward to growing with you!
Matt

PS. When you join our monthly mentoring program you will also receive:
1. Free access to ALL my online E-Courses, past, present & future. Over 70+ hours of mentoring on topics including: living in the glory, discerning of spirits, miracles & healing, fulfilling your destiny, singleness & marriage, identity and more!
2. Personal interaction with me.
3. The support & interaction of an online community.
PPS. Join today and be a part of our special Founders Team! Receive over $2,000 worth of mentoring resources. Astounding!

Why Wait? Join Today! 🙌🏻🔥❤️