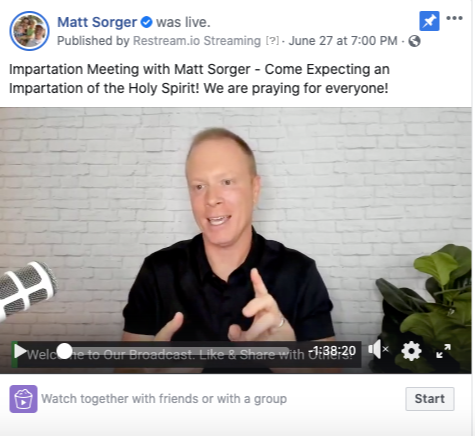 Did you miss our Special Impartation Service Online?

You can still receive from it! There is no time or distance with the anointing!
Here's What People Are Saying About the Service:
Thank you Matt for allowing God to use you to speak to me and encourage me today when I needed it. God bless you and your family and ministry. - Edward
I watched the online video from the beginning and worshipped so much. All I have to say is WOW! WOW! WOW! God meant for me to worship and watch this video tonight. I felt the Holy Spirit's presence SO much!!! It was truly glorious!! The Holy Spirit filled the room! It was amazing! - Christina
Always love your messages. Always inspiring! Thank you. - Elizabeth
Thanks Matt for pouring out to your brothers and sisters and listening to Jesus especially during these days. Your messages have been resonating with my spirit and it's such a joy to get confirmation for what the Lord has been speaking. Bless you and your precious family! Love in Jesus. - Tessie
Thank you Matt for all of the amazing ways your ministry advances God's Kingdom! Holy laughter broke out (with fire) over the airwaves this evening as you did live steaming on FB (at the end)! It was so needed! So thankful! Blessings to you and family! - Chin

DON'T MISS THIS POWERFUL ONLINE MEETING WITH MATT

CLICK HERE TO WATCH ON FACEBOOK NOW
CLICK HERE TO WATCH ON YOUTUBE NOW
CLICK HERE TO WATCH ON TWITTER NOW
During this service Matt teaches on the tangible, transferrable power of the anointing. Learn how to cultivate MORE of God's anointing in your life and receive a special prayer of impartation from Matt.

Matt talks about Elisha's bones raising a dead man back to life, Paul's handkerchiefs healing the sick, and YOUR hands transferring God's power to others.
Matt also shares many faith activating testimonies and stories. Then he prays for EVERYONE.