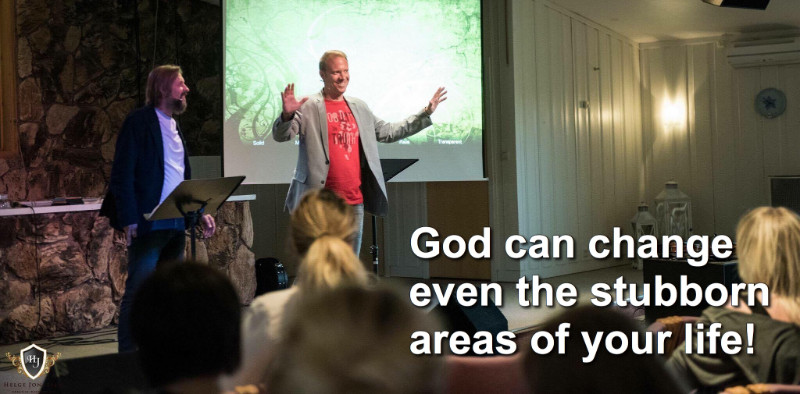 Have you ever said to God… "God! Will this ever change?!"

Do you struggle to overcome a stubborn area in your life? Well, you are not alone. We have all had to deal with areas that seem resistant to change.
These stubborn areas can include:
• Unhealthy eating patterns that cause unwanted weight gain.
• Reactionary patterns within the soul including anger, fear and worry.
• Negative thought patterns about yourself or others causing depression, conflict and strife.
• Wrong patterns of behavior that bring condemnation and guilt.
• Addictive cycles that keep you bound to things you want to be free from.
It's the ONE area that you are always praying about but NOT seeing the change you want. I call this a stubborn area.
Jesus didn't come to set you 50% free, 75% free of even 90% free. He came to set you 100% FREE. You can see every stubborn area of your life transformed by the power of God.
One key to transformation is recognizing any area in your mind or pattern of thinking where the enemy has lied to you. Once you expose the lies, you can dismantle any stronghold in the mind the enemy has tried to bind you with. You expose the lies by knowing the truth. You learn the truth by knowing God's word.

A Simple Exercise for Freedom

Here's a simple exercise you can do to help you experience freedom in your mind from every lie the enemy has tried to tell you. Get a piece of paper and a pen. Draw a line down the middle. At the top of column one write "LIES". At the top of column 2 write "TRUTH." Pray and ask God to show you any lies the enemy has told you about yourself. Expose them by writing them down in column one. Then get scriptures that tell you the exact opposite truth and write them in column two. Every time you think or feel the lie from the enemy, let your automatic response be to speak the truth of God's word out of your mouth. Over time every lie will be destroyed and your mind will be established in truth. As your mind is established in truth, your soul and body follow suit and begin to experience freedom.
I have so much more to share with you about how you can experience TOTAL FREEDOM in EVERY AREA of your life, spirit, soul, body and mind.
I have put together a special comprehensive FREEDOM PACKAGE for you. It will empower and equip you to experience the FULL FREEDOM Christ died to give you.
This Freedom Package has 21 teachings in 6 teaching sets. It's called the Deliverance and Spiritual Warfare Package. It's available in both CD and MP3.
The Sets Include:
Angels, the Discerning of Spirits & Overcoming Spiritual Warfare (4 TEACHINGS)
Breaking Strongholds (3 TEACHINGS)
The Breakthrough Series (3 TEACHINGS)
Keys to Your Breakthrough (4 TEACHINGS)
Take Down Your Giant (3 TEACHINGS)
Deliverance and Permanent Change (4 TEACHINGS)
The normal suggested donation is $105 but I am giving a special offer of 25% OFF. That's $78.75 for 21 MP3 teachings that empower you to walk in total freedom!
OR if you prefer to receive only one teaching set from the complete package, I suggest my 3 part set Breaking Strongholds. This is available in CD and MP3 format as well.
It's time you experienced FULL FREEDOM in your life!
YES MATT! I Want to Experience Total Freedom in My Life!