Amazing New Deliverance & Personal Freedom School

Each one of us is on a journey of transformation. Sometimes God delivers us instantly out of something and other times He delivers us through something. Some things are instant and some things are a process.
I want to talk to you about the things that are a process. The stubborn areas of your life. The area that you think will never change.
I have good news for you. You can change. God doesn't want to just give you temporary relief. He wants to permanently transform you. That's why I put this Deliverance and Personal Freedom School together.
It contains 21 teachings on topics such as:
• Dealing with Recurring Sin Issues
• Dealing with Areas of Demonic Oppression
• Identifying Root Causes and Issues
• Being Free from Trauma and Abuse
• Healing the Soul
• Overcoming False Belief Systems
• Breaking Every Stronghold of the Enemy
• How to Identify When A Stronghold is There
• Operating in Discerning of Spirits
• How to Discern without Coming Under Demonic Oppression
• Dealing with Generational Inherited Weaknesses
• How to Walk through Self Deliverance
• And So Much More!
I so want you to be empowered to live a life of freedom that I'm giving you the school today at a 50% Discount!
It's normally $170 for this 21 teaching school. But today, for a donation of only $85, you can receive all of these teachings on a USB stick.
Jesus Christ came to set you free and keep you free. Start living the life of freedom Jesus died to give you.
This school is also great for those who want to minister freedom to others.
YES, I want to live in total freedom and minister that freedom to others!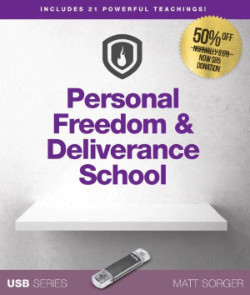 CLICK HERE TO ORDER YOUR DELIVERANCE & PERSONAL FREEDOM SCHOOL TODAY AT A 50% DISCOUNT.