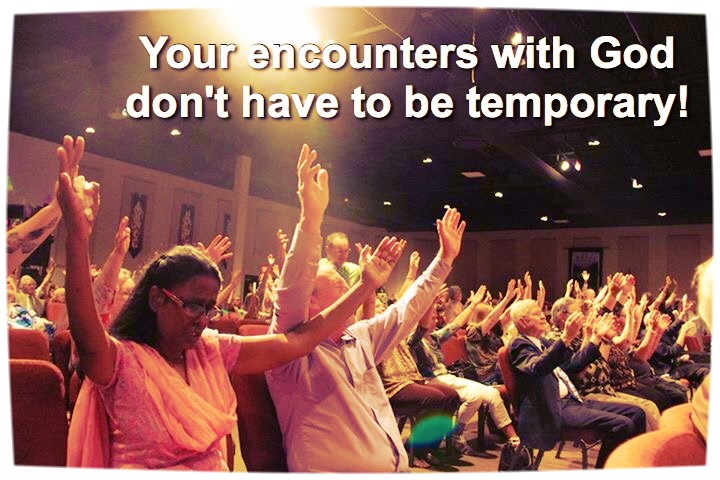 Have you ever experienced God in a powerful way only to slip back into "life as usual"?
Well it doesn't have to be that way! You can go from glory to glory, anointing to anointing, breakthrough to breakthrough.
God wants to pour Himself into you in such a way that not only do you keep what He gives, but you can see His presence and anointing continually increase in your life.
Here's a key to seeing this happen.
Realize that your spirit is a well. Out of your innermost being will flow rivers of living water. Just like you can dig a well in the natural, you can dig a well in your spirit. The deeper you dig your well, the more you will be able to sustain what God imparts into your life. A visitation of God doesn't have to be momentary.
We all have those special moments where God encounters us in a heightened way. Maybe it's in a church meeting, or in a special time of prayer. Maybe it's during a special weekend retreat or conference. Then you go back to your "normal" life on Monday.
What many people don't understand is HOW to take what God did in that special moment of encounter and see it become a part of their daily life and experience with God.
Here's one important thing to remember: You dig your well during your private time with God.
How do you do that?
Read the word - it will wash you, reveal to you the nature of God, transform your mind and soul and empower your spirit.
Worship Him in private - this will cultivate the tangible anointing and presence of God within you. It will stir up the impartation you received from God in a meeting.
Commune with Him through prayer - talk to God. Make your requests in prayer. But don't let it end there. Spend time waiting on Him and allow Him to share His thoughts and heart with you. This can happen through the word or through an inner prompting of His voice.
As you cultivate your private well you will be able to sustain every anointing He imparts into your life.
I want to help you see every encounter you've had with God increase in your day to day life. So I've put together a very focused teaching set on this subject called How to Keep Your Impartation. Encounters with God do not have to be momentary. They can become a part of your daily life!
Have you ever experienced God in a powerful way only to slip back into "life as usual"? In this riveting series Matt expounds on how to keep an impartation you receive from the Holy Spirit and see it go deeper in your life. He teaches from his personal life experience how to protect God's anointing and see His presence and power rise to new heights in your life. If you desire to move in the anointing without measure and see every impartation of the Holy Spirit increase, then this series is for you. Learn how to keep what you've got and see it explode in exponential greatness and glory.
Teachings Include:
Keeping Your Impartation
Protecting the Anointing
The Unlimited Anointing