You are entering into an exciting new season!
Rosh Hashanah began on Sept 20, 2017. It is one of the highest holy days and marks the first day of the New Year. Following Rosh Hashanah is the Ten Days of Awe leading into The Day of Atonement. Over the last 15 years since God first launched me into the prophetic healing ministry, Rosh Hashanah and the Ten Days of Awe have always been a significant time in my life.

It's Your Time to Launch into the New!
This is the year 5778. What an exciting time it will be! Understanding biblical numbers helps us interpret the time and season we are coming into. 5 is the number of grace. 7 is the number of completion. 8 is the number of new beginnings! There is a supernatural grace available to us to see every work God has begun in us brought to completion. There is also a grace to finish every assignment of our past season. With that God will launch us into the new! There will be fresh faith, vision and purpose for the days ahead. There will be significant change in our lives as God brings us into new things. This will include geographic changes, new ministry assignments, new relationships, new provision and a new faith and passion in your heart for God and His will for your life. You will be in the right place at the right time for God's will to be done.

Give Your Heart to God in a Fresh Consecration
Rosh Hashanah is also known as the Feast of Trumpets. During this festival, the Jewish people pray for God's forgiveness, for a good new year and for long life.
During this season it's a great time to let God search your heart and commit yourself in a fresh way to Him. It's a special time to consecrate everything in your life to God. I encourage you to pray God's blessing over the New Year and for a long, healthy life in Christ, both spiritually and physically.

You Can Set Your Direction for the Coming Year
The position we take before God during this time impacts the direction of the rest of the year. Rosh Hashanah is known as the "Head of the Year". The decisions we make and the seeds we sow will set the course for the coming year and release God's harvest in our lives.

Time of First Fruits for Year Long Harvest
This is also one of the recognized times to give a first fruits offering. I've always loved to strategically sow during this time of year. I encourage you to do the same. Find an anointed ministry that has impacted your life and consider sowing a seed into it. If MSM or any other ministry has impacted you, we invite you to consider sowing into it during this time of year. You may also want to sow a special first fruit seed into the Rescue1 outreach to sex-trafficked children. I believe whatever seed you sow is planted for your harvest in the coming year.

CLICK HERE TO SOW A FIRST FRUITS OFFERING INTO MSM

CLICK HERE TO SOW A FIRST FRUITS OFFERING INTO RESCUE1

Special Resource Offer
Understanding the prophetic significance of Rosh Hashanah and the Ten Days of Awe will help you discern the time and season we are in. I have done a comprehensive prophetic teaching on it. I also want to help you enter into the new season that is upon you. God is bringing things to completion and has new things for your life. In my prophetic teaching set Out with the Old, In with the New, I help you successfully transition into the new place God is calling you into. It's going to be a very exciting time of fulfillment and favor!

2 Day Special

Get Out with the Old, In with the New and receive Rosh Hashanah and the 10 Days of Awe teaching Completely Free!

Yes! I'd love to receive this special resource offer.

CLICK HERE TO RECEIVE THIS SPECIAL CD OFFER

CLICK HERE TO RECEIVE THIS SPECIAL MP3 OFFER


A Prophetic Decree Over You Today!

I invite you to speak this decree out loud over yourself and your friends and loved ones today.
I decree in Jesus name that God is bringing all things to completion in my life. The good work that He has started, He will be faithful to complete. Every hindrance is being removed out of the way and God is making a new way for me. I consecrate my heart and life to Him in a fresh way. I turn away from all sin and compromise and I declare that my heart and conscience will be sensitive to God. I give my entire past, present and future to You. Father I thank You that You are bringing me into new things. I receive Your grace today. I thank You that You are birthing new vision, purpose and faith in my heart. I will be in the right place at the right time for Your will to be done. I choose to sow good seeds in my life and I thank You for the abundant harvest, in Jesus name.
I invite you to follow us on Facebook, Instagram, Twitter and YouTube and receive a fresh decree over your life each day.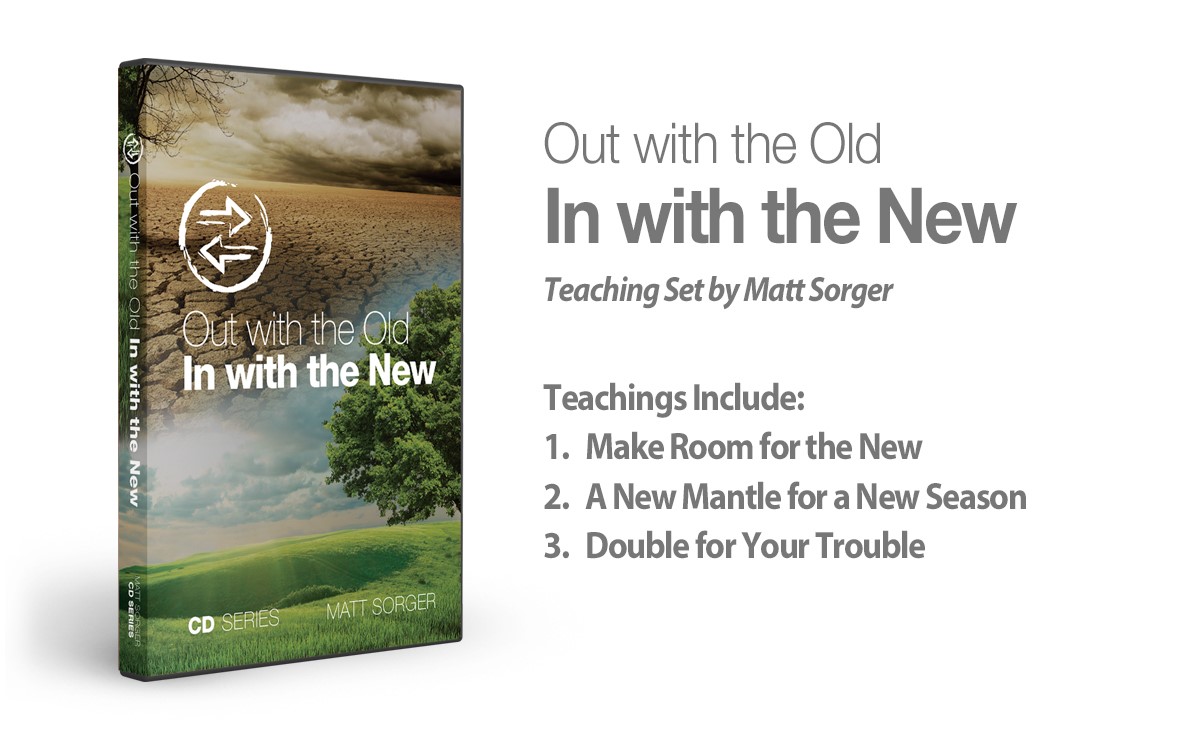 When God brings a shift or change in your life, not everything from your past season will go with you into the new. He will often clear out the old to make room for the new. God will also stretch you beyond your current comfort zones to bring you where you have never gone before. He will clear out every obstacle to His divine will and bring to pass His plan and destiny for you. This series will empower you to successfully transition into the new place God has for you.

COMPLETELY FREE TEACHING

Rosh Hashanah And The Ten Days Of Awe
Get Matt's prophetic teaching on Rosh Hashanah and The Ten Days of Awe and understand the spiritual significance of this season! The seeds you sow now will determine your direction for the rest of the year. Learn how to have a blessed and happy New Year in God and see God's perfect divine alignments come into your life and ministry. This teaching will help you to understand your moment!