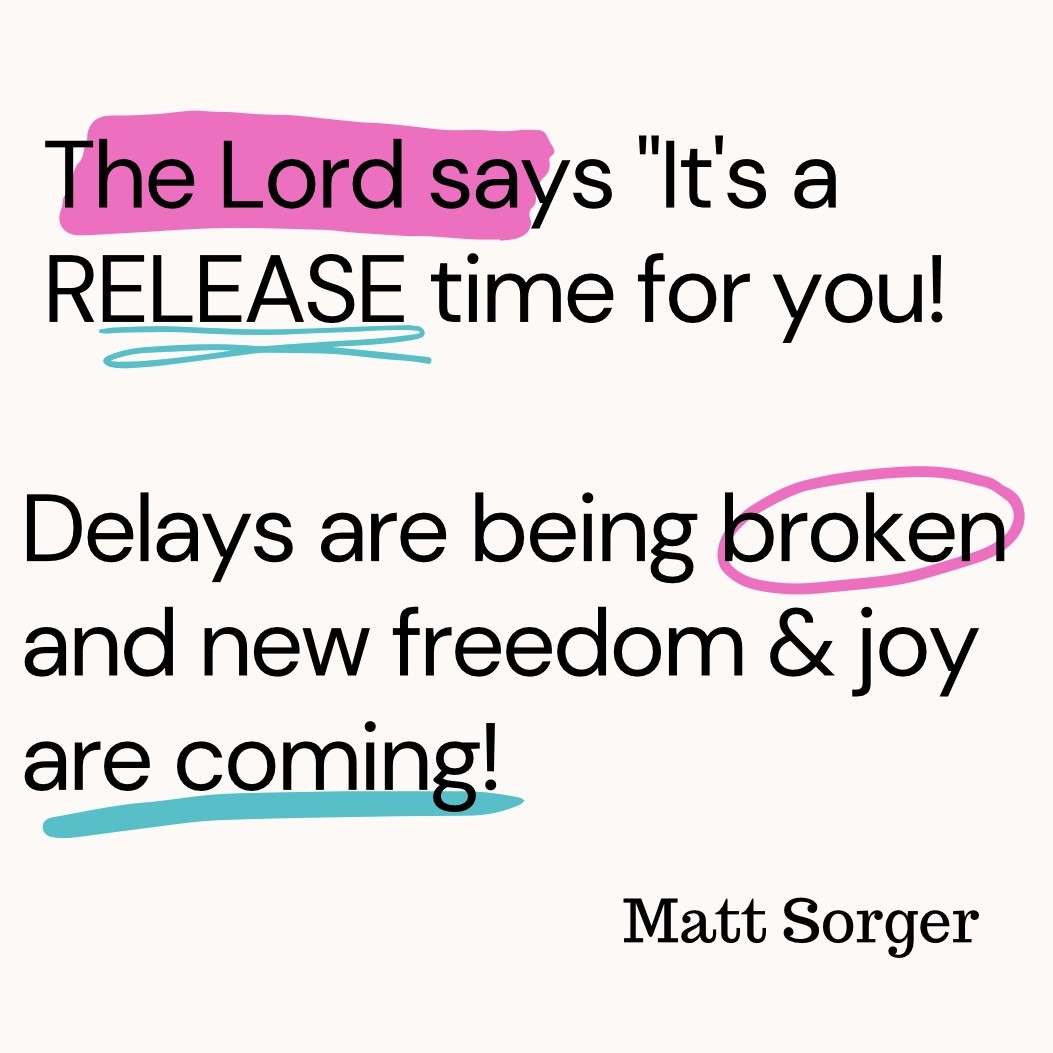 This is a season of divine emergence!

It's a RELEASE time for you. Delays are being broken and God is bringing you into a NEW INCREASED SPACE. You will be completely free and refreshed in God's glory.

God recently spoke to me that His people are coming out of a cocoon season.

A cocoon season is a transitionary season, not a permanent one. It's not your landing place. But when you are in it you often don't know how long it will last for.

SIGNS OF A SPIRITUAL COCOON:

1. There is external pressure around you.

2. There has been an internal or external struggle that you have wanted to get away from.

3. It's been uncomfortable and almost claustrophobic at times.

4. There's a growing discontentment with where you have been.

5. You know in your heart that God has MORE for you.

These are signs that you have been in a cocoon. When it gets to the point of being unbearable…this is when breakthrough is just in front of you and you are about to EMERGE into something completely NEW.

I am here to tell you TODAY…GET READY FOR A DIVINE EMERGENCE IN YOUR LIFE.

When you emerge, you will find your voice, your anointing, your calling and your purpose. It will be as if you are transfigured into a brand new person.

You have to read this brief story about a butterfly.

Once upon a time, a man found a butterfly that was starting to hatch from its cocoon. He sat down and watched the butterfly for hours as it struggled to force itself through a tiny hole. Then, it suddenly stopped making progress and looked like it was stuck.


Therefore, the man decided to help the butterfly out. He took a pair of scissors and cut off the remaining bit of the cocoon. The butterfly then emerged easily, although it had a swollen body and small, shriveled wings.


The man thought nothing of it, and he sat there waiting for the wings to enlarge to support the butterfly. However, that never happened. The butterfly spent the rest of its life unable to fly, crawling around with small wings and a swollen body.


Despite the man's kind heart, he didn't understand that the restricting cocoon and the struggle needed by the butterfly to get itself through the small hole were God's way of forcing fluid from the body of the butterfly into its wings to prepare itself for flying once it was free.

HERE'S THE QUICK MORAL: The cocoon that frustrates you is what God is using to transform you into who He has designed you to be. You are going to emerge with new strength and power.

You will know it's your time to emerge when the pressure becomes unbearable. Keep pushing! Keep going! You are emerging with the struggle. And soon your wings will fly!

I WANT TO HELP YOU GET INTO YOUR NEW SEASON!

To do that I have a VERY SPECIAL LIMITED TIME OFFER just for you.

Limited Time Offer

When you donate for my teaching set
Shift Your Season

I am going to give you my teaching set
How To Pull Your Future into the Now
COMPLETELY FREE

BUT WAIT...THERE'S MORE!

I am also going to give you my teaching set
Out with the Old, In with the New
COMPLETELY FREE.

AND...

I am going to give you my
NEW PROPHETIC TEACHING
Divine Emergence
COMPLETELY FREE as well.

12 TEACHINGS IN ALL!

NOW IS YOUR TIME TO EMERGE AND FLY. DISCERN THE TIMES AND SEASONS AND GET READY FOR YOUR VOICE TO COME FORTH AS NEVER BEFORE.

Matt, I am so excited for what God is doing in you!
YES! I want to emerge into my new season! I choose to start today!
CLICK HERE FOR THIS SPECIAL DOWNLOAD OFFER
CLICK HERE FOR THIS SPECIAL CD OFFER
COMPLETELY FREE TEACHING SETS
NORMALLY $80 suggested donation!!!
DIVINE EMERGENCE
Get ready to emerge into your new season. You will be inspired by Matt's latest prophetic teaching!
OUT WITH THE OLD, IN WITH THE NEW
When God brings a shift or change in your life, not everything from your past season will go with you into the new. He will often clear out the old to make room for the new. God will also stretch you beyond your current comfort zones to bring you where you have never gone before. He will clear out every obstacle to His divine will and bring to pass His plan and destiny for you. This series will empower you to successfully transition into the new place God has for you.
Teachings Include:

1. Make Room for the New
2. 
A New Mantle for a New Season

3. Double for Your Trouble
PULL YOUR FUTURE INTO THE NOW
There is power in vision. When you can see with the eyes of the Spirit, all the limitations of the natural are removed. In this powerful four part teaching series Matt teaches with scriptural clarity how to pull God's timing into your "now moment". Matt addresses the concept of God's timing and brings some much needed truth and revelation into this area. You will also learn how to live with a spirit of excellence and advance your life and ministry forward with exponential growth. Get ready to access God's supernatural grace and power in your life today!
Teachings Include:

1. The Power of Vision and Destiny

2. Advancing Your Destiny with Excellence

3. Pulling Your Future into Your Now

4. Unleashing Your Prophetic Promise