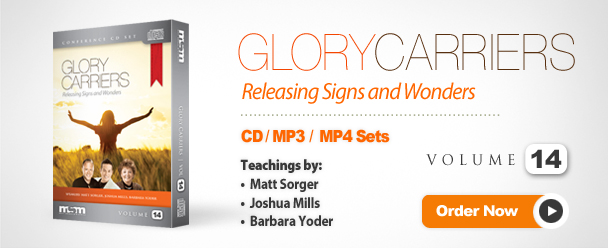 This years Glory Carriers went from glory to glory! Each day the presence, anointingand revelation increased with each speaker. We were joined by Barbara Yoder and Joshua Mills. The worship was filled with heaven as Steve Swanson and Jason Lee Jones led us into the presence of God.
How to Be a Glory Carrier - Matt Sorger
The conference opened with Matt Sorger bringing a fresh revelation on how to carry the glory of God on your life. Matt teaches on how you can practically and spiritually carry the weight of God's presence. He shares a deep revelation on the reality of Jacob's ladder and the open heaven in the life of the believer. As you listen to this message God's light will illuminate every part of you. You will radiate His glory.
Overcome Warfare through the Glory - Barbara Yoder
In this teaching Barbara Yoder shares what it means to be a glory carrier. She teaches how to open up the glory realm through sacrifices of praise. In this message you will learn how to build your tent of meeting with God. Barbara declares that we are entering into a new realm and there is a war over it. She teaches how to identify spiritual warfare that comes in the form of distractions and how to overcome this.
Releasing the Glory - Joshua Mills
God is giving you an invitation into a new dimension. In this session Joshua Mills declares that God wants to make you a glory releaser. God pours into you so He can pour through you. It's not about your own ability. It's about God's divine enablement. In this session you will learn how to release the glory of God through your life and live from another dimension.
Glory Outbreak - Barbara Yoder
This session of the conference was filled with holy joy and breakthrough anointing. The presence of God began to move upon people in the room as they came under a fresh encounter with God. As you listen to the message Barbara Yoder brings, that same anointing will touch you right were you are. The glory of God comes to break you through to a new level and a new dimension.
Glory Panel - Matt Sorger, Barbara Yoder, Joshua Mills, Mary Audrey Raycroft
This session involved a question and answer time with all of our guest speakers. Matt, Barbara and Joshua, along with Mary Audrey Raycroft from the Toronto Outpouring, shared deep insights on how to live in God's glory. Topics of discussion included glory manifestations, what is it like having God's glory move in and through you, how can we cultivate God's glory internally, how can we release God's glory to others, and insights into the private prayer lives of each speaker.
Stewarding the Anointing and Presence - Matt SorgerIn this special session of the conference Matt personally prayed for each person in attendance. He also shared revelation on how to steward the presence, anointing and glory of God in your life. Matt shares important updates regarding what God is doing through MSM and also shares on the revelation of partnership. The presence and glory of God broke out in the meeting as many came under the divine influence of the Holy Spirit.
Secret Place Glory - Joshua Mills
In the closing session of the conference Joshua Mills ministers on the Secret Place Glory. He declares that now is not the time to give up. You are on the brink of a miracle! You can find an ease and rest in the glory. God will hide you in the secret place of His presence, where the adversary can't find or touch you. In that place you will see yourself for who you really are.
The glory and revelation released during Glory Carriers is significant to your life. You can go to a new level of God's glory. You can live from a higher dimension. You can overcome spiritual warfare and release His glory everywhere you go.
"It's important that every believer get these messages and revelations into their hearts and minds. It will transform them!" ~ Matt Sorger
Glory Carriers Conference Set 2014 can be obtained in CD, MP3 and MP4 video format. We have made this series available especially with you in mind. We want you to go to a new level. Invest the word of God into your life and you will reap the benefits. God has good things for you!