Prophetic Word
God is Restoring Your Lost Years

When we experience loss, pain or suffering in our lives, sometimes it's the result of other people's actions and sometimes it's the result of our own behavior and attitudes. In Joel the children of Israel had turned away from God. As a result of their poor choices they suffered a locust plague that destroyed everything in the land. But this is how amazing God's goodness is. Even though it was their own fault, God still promised to restore everything that was lost.
Get ready to experience God's extravagant goodness in every area of your life!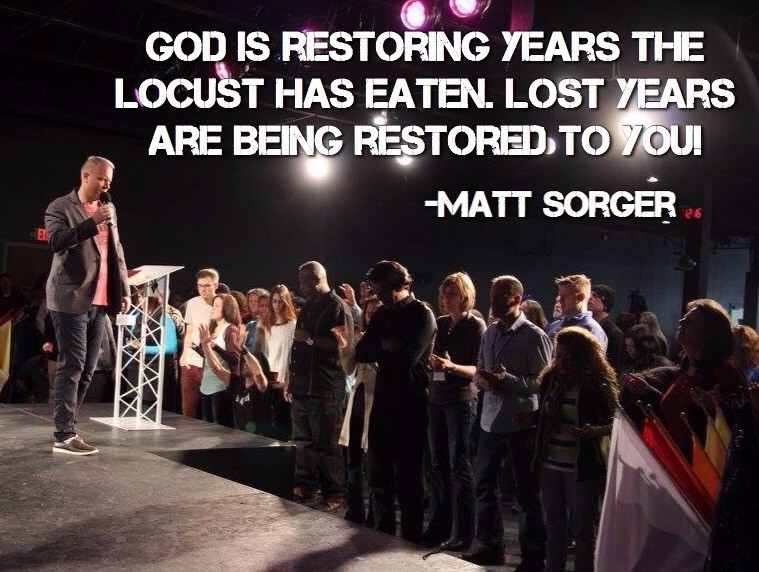 Upcoming Events

God is pouring out a fresh oil and a fresh anointing. Come and experience the presence & glory of God. Also receive a powerful teaching by Matt.
One touch of the glory changes everything!

January 12 - 15
Redemption House Life Center | Glen Burnie, MD
January 18 - 22
Faith Miracle Temple | St. Louis, MO
January 25 - 28
Justice, Glory, and Harvest Conference | SK, Canada
January 29
Heaven Invading Earth Weekend | ON, Canada
February 2,3 & 5
New Haven Ministries | Jamaica, NY
February 11 - 12
Whole Word Fellowship | Oakton, VA
February 16 - 19
Epic Church | Olean, NY
February 22
Company of Warriors | Granite Bay, CA
February 24 - 26
Oasis Christian Mission Center | Sacramento, CA
March 1 - 2
New Wine to the Nations | Pearl City, HI
March 3 - 5
Mililani Missionary Church | Mililani, HI
March 10 - 12
Global Revival Church | Iaea, HI
March 24 - 26
Global Presence Center | Madison, WI
March 31 - April 2
The Bridge Metrowest | Natick, MA