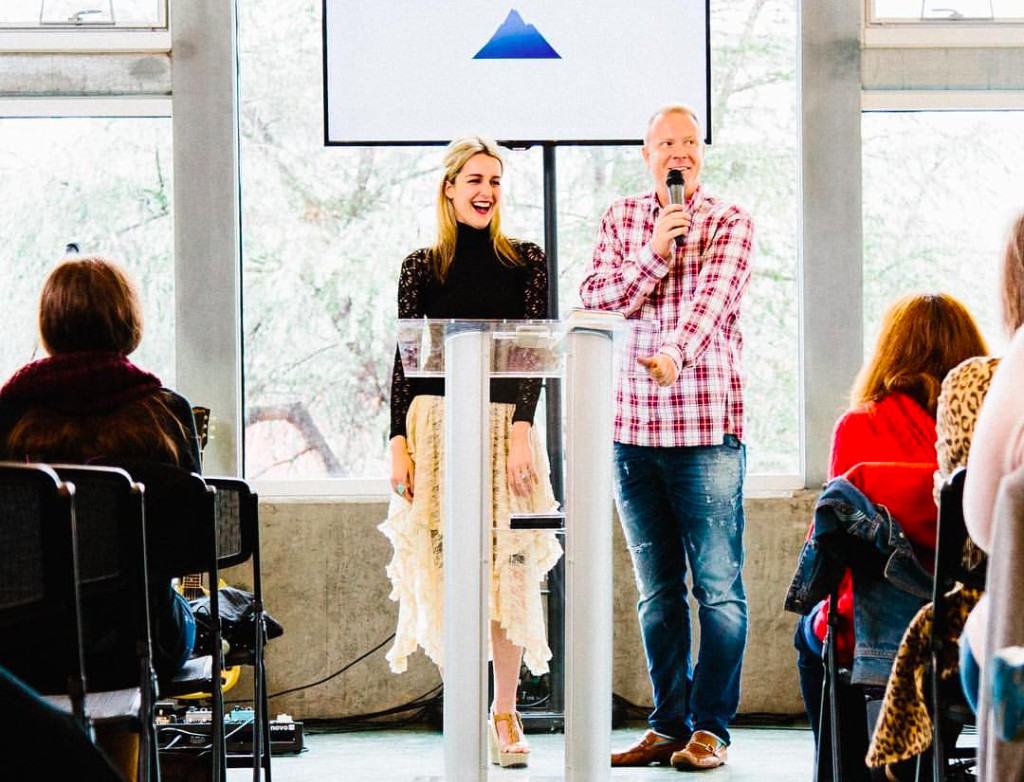 On the Road with Matt & Stephanie

We recently had the privilege of preaching at Christ for the Nations Bible Institute in Dallas, TX to around 1,000 of their student body. Amazing worship leaders, such as Kari Jobe, have been raised up and trained here. God's Spirit poured into the student body. Many were so hungry for God they didn't want to leave the service! God is raising up a generation who will walk in His glory and see revival fire burn everywhere they go!

Stephanie and I also saw God touch the nation of Iceland in a powerful way. God opened up a door for us to speak on LIVE national television and release His glory right into the living rooms of every home in Iceland. As God gave me words of knowledge, people were healed right through the airwaves and called into the TV station testifying of God touching them. In one of our night meetings in Iceland a man came forward to the altar to DISPROVE the power of God. When I prayed for him the power of God shot through his body completely setting him free from addiction, drugs and alcohol! He was shocked! God's mercy and love are overwhelming.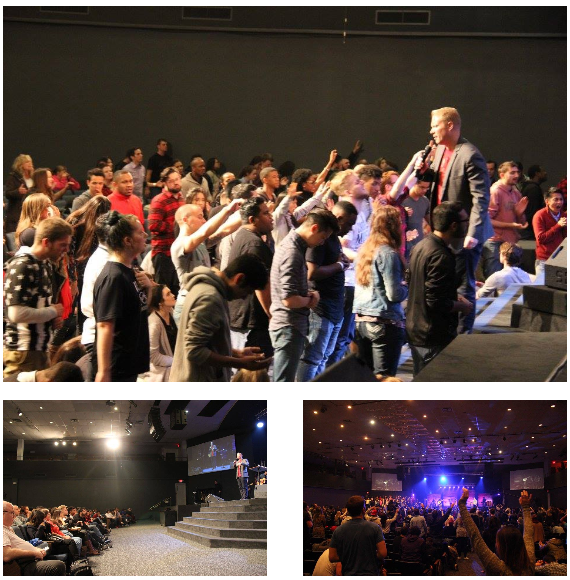 We also experienced a mighty move of God in North Carolina with our friends Mahesh and Bonnie Chavda, Joshua Mills and Barbara Yoder. God's fire swept through the meetings bringing explosive breakthrough in people's lives. Also while I was ministering in Sacramento, CA a woman came up to me after service and said she had not felt God's presence like that since she was saved years ago. It was liked she got saved all over again!
Your Monthly Partnership is helping us touch hundreds of people every week with God's manifest glory, healing, joy, freedom and refreshing touch. Thank you!!!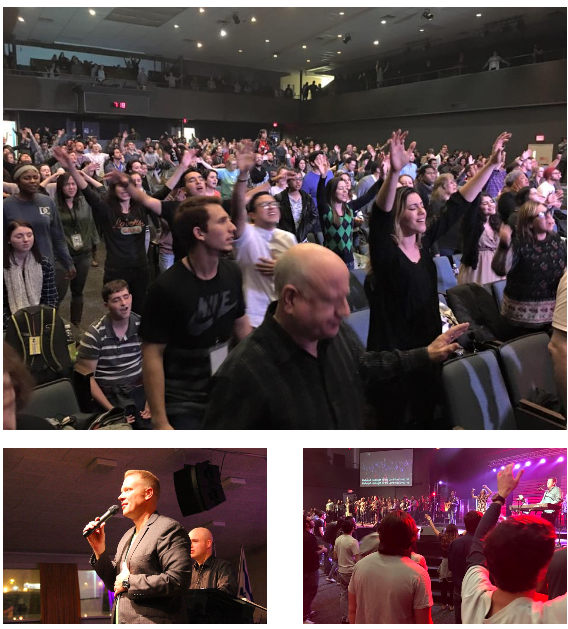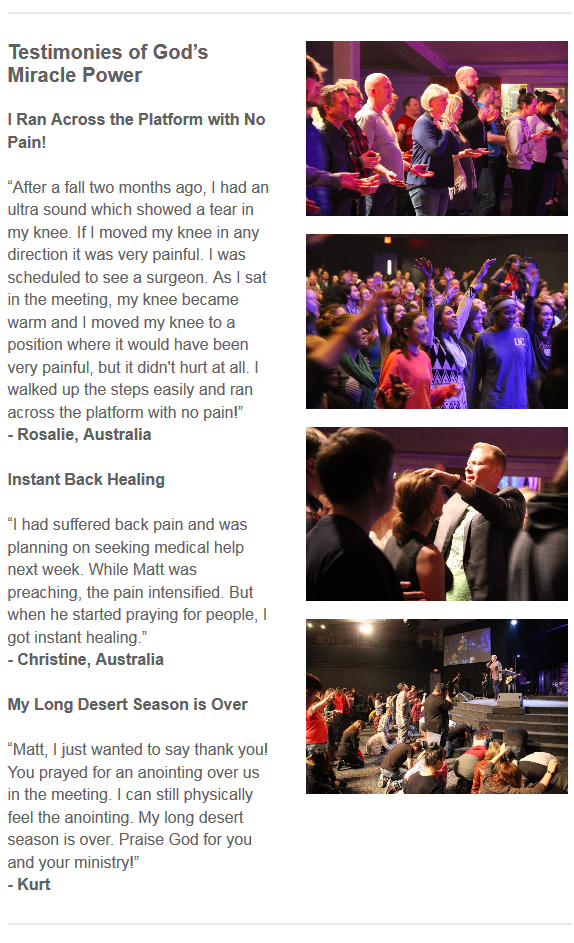 Prophetic Insight - Presence Deliverance

God is pouring out a new anointing of presence deliverance. This is where people get set free and delivered in the presence of God. As we begin to carry a heavier weight of glory on our lives, the anointing within and upon us will break and demolish the yoke of oppression on other people around us. A key for this is consecration. The more we allow God to purify us, the more authority we will have to walk in this realm. Mt 7:5 teaches that as we remove the plank from our own eye, we will see clearly to remove the speck from our brother's eye. The more clear we are in our spirit, the more anointing we will have to set others free. God wants to use you as a deliverer! Stephanie and I pray this month that God's glory will increase upon you and a breakthrough anointing would be released through you everywhere you go.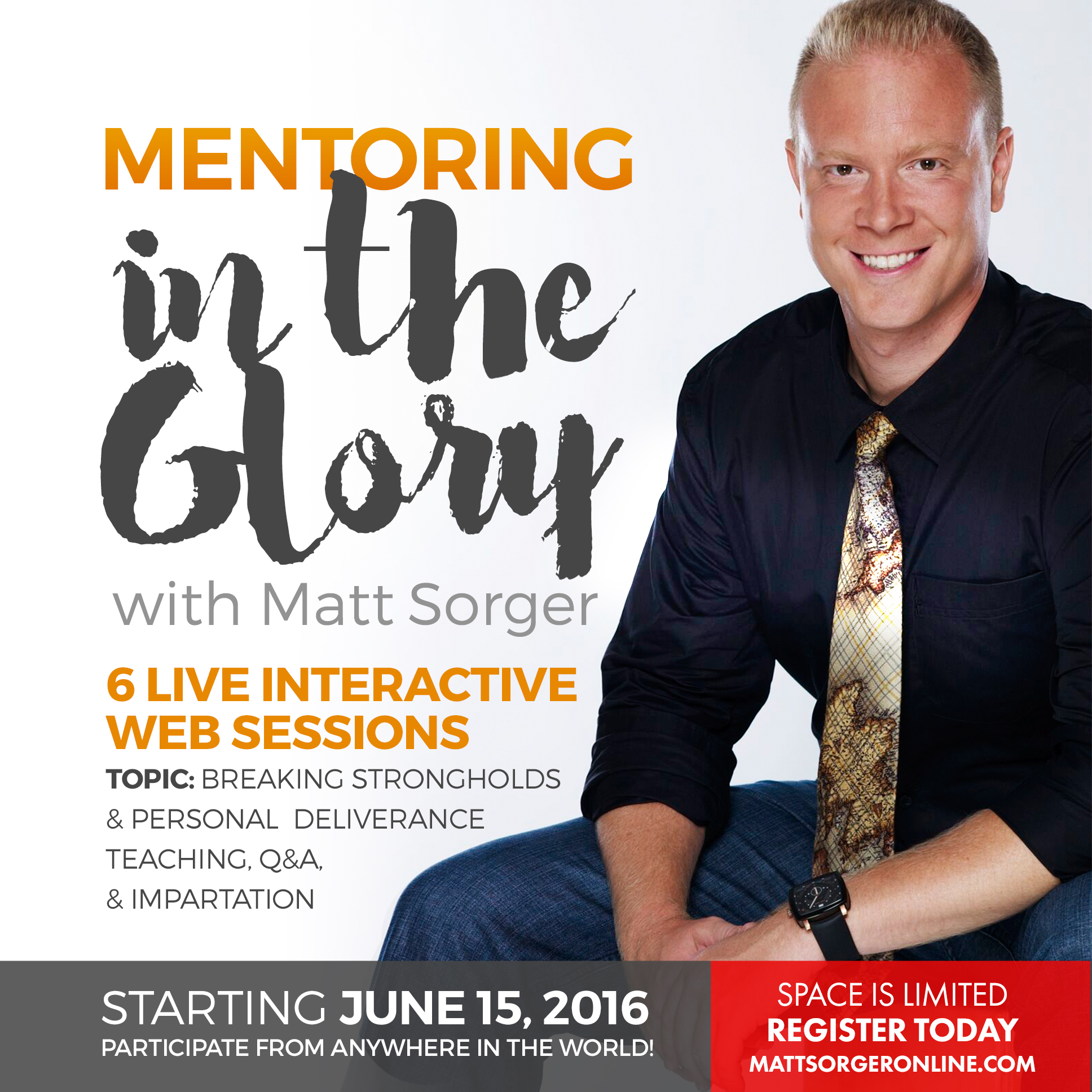 Get to Know Matt & Stephanie

What is Your Favorite Part of Travel Ministry?
Matt: My most favorite thing about travel ministry is getting to see all the lives transformed by God's power. People come so hungry for God to the meetings and they have an expectation that God will do something. This faith really impacts what God does in the meetings. I love seeing tears flow down the face of someone who just found God and had their sins washed clean or the look of joy on someone's face who just received healing from God's touch. Nothing can compare to these things!
Stephanie: I love the relationships and friendships we build with pastors and others all over the world. It's like we have extended family in all different countries. Also, seeing God restore, transform, and heal people right in front of my eyes is an incredible experience. I feel blessed to experience all of this with my husband and best friend.

Missions - Child Rescue Update

We are so excited for all God is doing through Rescue1! We currently have rescued 150 children from sex-slavery, abandonment and life on the streets. They range in age from 6-14 years old. We have 130 amazing monthly Child Sponsors that help care for these precious little ones on a monthly basis. We only need 20 more Child Sponsors at $50 a month to completely cover all of our rescued children. The $50 provides housing, food, clothing, medical care, education and supplies and training in vocational and life skills. Our goal is to rescue 300 children in 2016. Partners you are helping to make this happen with your monthly support! For more information or to sponsor a rescued child, click here.
Come with us to India in February 2017! It is going to be filled with so many activities and outreaches!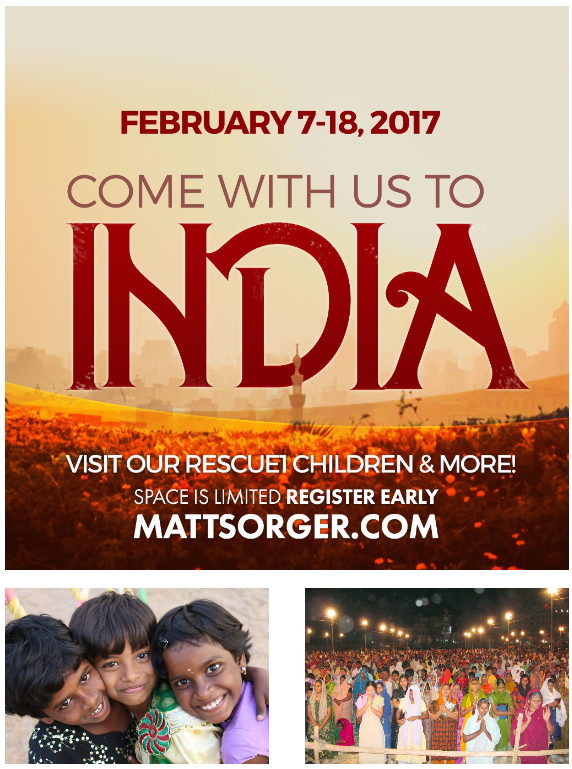 Thank You Monthly Partners!

Thank you monthly Power Partners for helping me reach souls around the world! Your prayers & giving are changing lives for eternity. You made these two evangelistic crusades to reach the lost possible. Many were saved, healed and set free because of your faithful giving.
I so appreciate our monthly partners. MSM sows a new audio teaching in CD and MP3 each month as a special thanks to our partners. If you would like to receive this monthly teaching and come under the prayer cover of MSM, you can join our partner family by clicking the link below.
Yes! I want to partner with the anointing on MSM and see lives changed around the world!